Synergy Software Systems
P.O.Box 7780
303, Al Khaleej Building, Karama
Dubai, United Arab Emirates
Telephone:
+971 4 3374282
iSynergy - Document Management System
Enterprise-class, Integrated Content Management Software Solution.

iSynergy empowers organizations to innovate their approach to managing content and simplify their daily work environment.


Designed to solve transactional and paper-based problems in Accounting, Human Resources, Customer Service and Operations. iSynergy provides an easy-to-use and scalable document management solution for the growing enterprise. Through the complete integration of process definition, human resource allocation and document management, iSynergy is a complete operational platform for information management and process automation.
Why choose iSynergy for your Document and Content Management needs ?
Worker and document centric approach to process automation.

Integrated document management, workflow automation and data capture solution from one vendor provides seamless data exchange.

Point-and-click integration with any desktop or browser-based third party application.

Low barrier to entry that encourages adoption with an iterative process of successful expansion form departmental implementations to an enterprise-wide solution.

Entirely customizable, designed to fit your way of doing business.

Built on open standards service oriented architecture, .NET with C#, AJAX for simplified integration, expansion and modular re-use.

Easy to use and easily customized.

All components are browser-based for ease of use, accelerated deployment, and remote management.

Automated indexing with character and barcode recognition.

End-to-end functionality:

scan, recognize, archive, retrieve, automate, and integrate.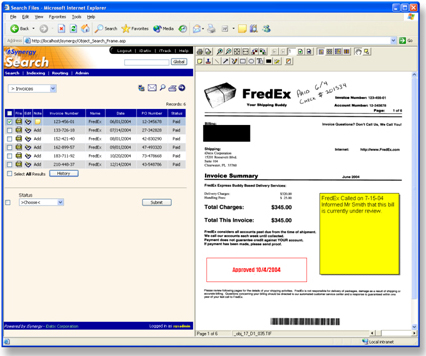 With iSynergy, you increase your ability to meet compliance requirements and reduce business liabilities by eliminating lost documents, adding audit trails and securing document access.
Browser-Based User Interface
Dynamic Linking
Ad-Hoc Workflow
Reporting
No Coding Integration
Web-Based, Distributed Capture
By providing a thin and intuitive browser-based user interface, iSynergy users can easily search for and manage documents from anywhere in the World.
iSynergy uses common index fields to link together related documents for easy retrieval. By eliminating data "silos," iSynergy enables documents to be found in logical and useful ways to minimize search time.

For example, a user will be able to find "Invoices" and "Checks" related to a particular order number or vendor name in the same search.
Ad-Hoc (Latin for "for this purpose") workflow is designed to move documents pertaining to a specific purpose, case, or situation at hand, based on the business process to which the documents belong.

The Ad-Hoc Workflow pertains to the different stages your document goes through in your business process and who is responsible for handling it.
iSynergy reporting allows users to check status of documents in the Ad-Hoc Workflow environments.

For example, a Manager can generate a report to determine the number of documents in a process by status, thereby allowing a decision to be made on allocation of resources.
By enabling any desktop or browser-based application to display documents from the iSynergy repository without the need for a programmer to get involved, iDatix has changed the way businesses share and need information.

With iLink, a free module of iSynergy, any user can integrate any line of business application with other databases to further correlate data and increase usability.
Instead of scanning all documents in one central location, companies need to capture data at remote locations.

With ScanDox, both scanned images and electronic documents are delivered via the Internet for centralized processing, distribution and storage in iSynergy.

ScanDox is a click-once deployable, Web-based tool that facilitates distributed capture and indexing and seamlessly injects the information into iSynergy or your line-of-business application.